by Jacqueline Taylor - Evening Herald - 12th January 1999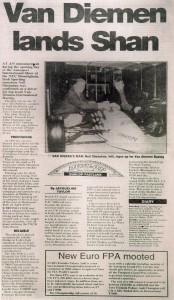 At an announcement during the open day of Autosport International Show at the NEC Birmingham, Irish Sporting sensation Neil Shanahan was confirmed as a driver for top team Van Diemen International Racing.
The Deal will see the 19 year old Dubliner, compete in both the British and European Formula Ford Championship. The 1998 "Ford of Ireland" Formula Ford Zetec Champion and current RIAC Dunlop Driver of the year, follows in the footsteps of Irish Grand Prix star Eddie Irvine.
In 1987 the current Ferrari driver drove for the factory Van Diemen team and went on to win British Championships and the prestigious Formula Ford Festival.
That achievement sent Irvine on the road to F1 and is one which Shanahan will be hoping to emulate this season.
Entering only his third season of car racing. Neil has quickly risen to the top of his sport making a name for himself both at home and abroad. Neil will announce full details of his 1999 campaign and sponsors at a reception in Dublin in March before heading off to compete in his first race of the year at Donington Park on April 4th / 5th.