by Sean McGoldrick - Sunday World - 13th June 1999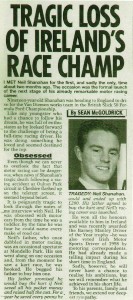 I met Neil Shanahan for the first, and sadly the only time, about two months ago. The occasion was the formal launch of the next stage of his already remarkable motor racing career.
Nineteen-year-old Shanahan was heading to England to drive for the Van Diemen works team in the British Slick 50 Formula Ford Championship. Like any youngster who had a chance to follow his dream, he was full of enthusiasm as he looked forward to the challenge of being a full-time racing driver. He was doing something he loved and seemed destined for the top.
Even though we can never overlook the fact that motor racing can be dangerous, when news of Shanahan's tragic death following a racing accident at Oulton Park circuit in Cheshire flashed up on the teletext screen, it seemed beyond belief.
It is poignantly tragic to look though the notes of my interview with Neil. He was obsessed with motor cars from the time he was a toddler. By the time he was four he could name every make of road car.
Neil's father, who once dabbled in motor racing, was an occasional spectator at Mondello Park. His son went along on one occasion, and from the moment he saw a kart race, he was hooked. He begged his father to buy him one.
His father promised he would buy the kart if Neil saved all his pocket money and raised half the cost. For a year he saved every penny he could and ended up with £200. His father agreed to buy the kart, and Neil's racing career was launched.
He won all the honours available to him in Ireland and was recently awarded the Barney Manley Driver of the Year trophy – he was also voted Irish Motor Sports Driver of 1998 by motoring correspondents. He had already made an impact during his short time in England.
Sadly, however, he will never have a chance to realise his ambitions, but we will remember what he achieved in his short life.
To his parents, family, and friends, we extend our deepest sympathy.