by Michael O'Carroll - Free Wheels - 17th January 1998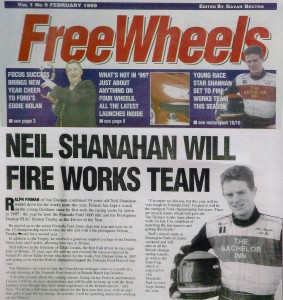 Watch for this rising star of Irish motor racing. Neil Shanahan is the name: he's from Churchtown, Dublin: an 18-year-old Leaving Certificate student with a burning ambition to make it to the very top in a tough yet rewarding world of motor racing.
Red-haired Neil started karting when he was fourteen. In his three years with the Junior Karting chargers he won no championship, and yet he was awarded the Philips Trophy as the Most Improved Driver. In those days he was often hampered by poor machinery, by his own politeness or a simple lack of knowledge. That has changed!
Neil Shanahan, with support from his father Liam and mother Mary, entered a learning curve this year that would soon catapult him to prominence within the sport. He started racing in Formula Ford 1600 and he swept to success as the winner of the DHL Star of Tomorrow. Recently he was selected as the winner of the RIAC Dunlop Sexton Trophy by a panel of judges.
Shanahan was one of the six drivers chosen by the judges on a monthly basis since April last. The others were Ed O'Connor (Kildare) saloon car champion, Donal Loughrey (Dublin) Formula Opel champion, Ciaran Greenan (Dublin) saloon car racer, Jeff Wright (Bangor) Ford Zetec and Philip Kehoe (Wexford) Ford Zetec. So he had some major opposition.
The Sexton Trophy – the highest accolade in Irish motor racing – could be the passport Neil Shanahan requires to shoot to the top of motor racing's ladder. Winning nine times from twelve starts during the past season Neil outstripped more experience opposition and it showed in his racing maturity far beyond his tender years. Politeness off the track has turned into astuteness in a racing car!
The Dunlop sponsored Sexton Award, which was announced on November 27th, comes to a young Dubliner in the form of a Scholarship. He will get a cheque for £2,000 from the Irish Dunlop, together with free travel to and from races in the UK from Stena Line as well a year's supply of lubricating oil from Castrol.
What a start for this young talent? Polite, well spoken and groomed, yet burning with ambition to succeed, Neil Shanahan has two things on his mind for 1998. He wants to complete his Leaving Certificate, while at the same time he is determined to race here in the Ford of Ireland Zetec series. After June he will take in a few races in the UK to prepare himself for a full season there in 1999.
Apart from the support of his family. Neil Shanahan has the guidance of Oisin O'Briain from the Champions of the Future organisation, and Mick Merrigan from Rathnew, Wicklow who prepares the car and guides him within the sport. A former racer and highly qualified motor engineer Merrigan is a key person in Shanahan's future.
Merrigan is convinced that he has a star in the making. He is also aware that the team are entering a slippery slope where money matters and along with which hard lessons must be learned with every turn of the wheels. Up to this Tipperary Water, Blaupunkt and the Bachelor Inn (his parent's pub on Bachelor's Walk) have been Neil's main backers.
Watch out for Ireland's motor racing young star – the youngest Sexton Champion ever in that series 50-year history, and a racing driver who shows much promise. This son of a Tipperary father and a Dublin mother has ambitions far beyond the Phoenix Park, Kirkistown or Mondello where he found beginner's glory in 199