by Nick Phillips – The Independent – 1st June 1999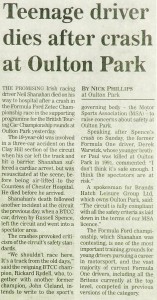 The promising Irish racing driver Neil Shanahan died on his way to hospital after a crash in the Formula Ford Zetec Championship race in the supporting programme for the British Touring Car Championship rounds at Oulton Park yesterday.
The 19-year-old was involved in a three-car accident on the Clay Hill section of the circuit when his car left the track and hit a barrier. Shanahan suffered a cardiac arrest, but was resuscitated at the scene, before being air-lifted to the Countess of Chester Hospital. He died before he arrived.
Shanahan's death followed another incident at the circuit the previous day, when a BTCC car, driven by Russell Spence, left the circuit and went into a spectator area.
The crash provoked criticism of the circuit's safety standards.
"We shouldn't race here. It's a track from the old days," said the reigning BTCC champion, Rickard Rydell, who, together with another former champion, John Cleland, intends to write to the sport's governing body – the Motor Sports Association (MSA) – to raise concerns about the safety at Oulton Park.
Speaking after Spence's crash on Sunday, the former Formula One driver, Derek Warwick, whose younger brother Paul was killed at Oulton Park in 1991, commented: "I don't think it's safe enough. I think the spectators are at risk."
A spokesman for Brands Hatch Leisure Group Ltd, which owns Oulton Park, said: "The circuit is fully compliant with all the safety criteria as laid down in the terms of our MSA license."
The Formula Ford championship, which Shanahan was contesting, is one of the most important training grounds for young drivers pursuing a career in motorsport, and the vast majority of current Formula One drivers, including all the Britons currently at the top level, competed in previous versions of this category.