Carsport - Issue: 195 - February 1999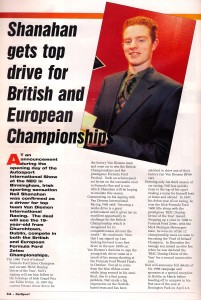 At an announcement during the opening day of the Autosport International Show at the NEC in Birmingham, Irish sporting sensation Neil Shanahan was confirmed as a driver for top team Van Diemen International Racing. The deal will see the 19-year-old from Churchtown, Dublin, compete in both the British and European Formula Ford Zetec Championships.
The 1998 'Ford of Ireland' Formula Ford Zetec Champion and current 'RIAC Dunlop Driver of the Year', Neil's signing will see him follow in the footsteps of Irish Grand Prix star Eddie Irvine. In 1987 the current Ferrari driver drove for the factory Van Diemen team and went on to win the British Championships and the prestigious Formula Ford Festival. Such achievement set Irvine on the successful road to Formula One and is one which Shanahan will be hoping to emulate this season.
Commenting on his signing with Van Diemen International Racing, Neil said: 'Securing a works drive is a great achievement and it gives me an excellent opportunity to challenge for the British Championship which is recognised for its competitiveness all over the world'. He continued, "Now that I am signed up I am looking forward to my first drive in the new 1999 car.'
Van Diemen's decision to sign the young Irish driver came as a result of his strong showing at the Formula Ford World Finals in October. Forced to retire from the blue ribbon event while lying second in his semi-final, due to a fuel pump problem, Neil made a big impression on the Norfolk-based team and has been selected to drive one of their factory-run Van Diemen RF99 cars.
Entering only his third season of car racing, Neil has quickly risen to the top of his sport making a name for himself both at home and abroad. In 1997, his debut year of car racing, he wont the Irish Formula Ford 1600 title along with the prestigious 'RIAC Dunlop Driver of the Year' Award.
Stepping up to a class in 1998 to Formula Ford Zetec, with the Mick Merrigan Motorsport team, he won six of the 12 championship races en route to becoming the 'Ford of Ireland' Champion. In December the teenage star joined an elite few when he was declared the 'RIAC Dunlop Driver of the Year' for a second consecutive year.
Neil will announce full details of his 1999 campaign and sponsors at a special reception in Dublin in March before heading off to compete in his first race of the year at Donington Park on April 4-5.