by Declan Quigley - Sunday Independent - 6th June 1999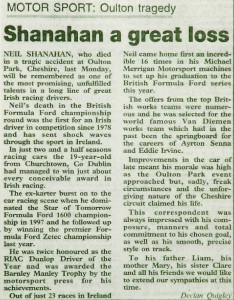 Neil Shanahan who died in a tragic accident at Oulton Park, Cheshire, last Monday, will be remembered as one of the most promising, unfulfilled talents in a long line of great Irish drivers.
Neil's death in the British Formula Ford championship round was the first for an Irish driver in competition since 1978 and had sent shock waves through the sport in Ireland.
In just two and a half seasons racing cars the 19-year-old from Churchtown, Co. Dublin had managed to win just about every conceivable award in Irish racing.
The ex-karter burst on to the car racing scene when he dominated the Star of Tomorrow Formula Ford 1600 championship in 1997 and he followed up by winning the premier Formula Ford Zetec championship last year.
He was twice honoured as the RIAC Dunlop Driver of the Year and was awarded the Barney Manley Trophy by the motorsport press for his achievements.
Out of just 23 races in Ireland Neil came come home first an incredible 16 times in his Michael Merrigan Motorsport machines to set up his graduation to the British Formula Ford series this year.
The offers from the top British works team were numerous and he was selected for the world famous Van Diemen works team which had in the past been the springboard for the careers of Ayrton Senna and Eddie Irvine.
Improvements in the car of late meant his morale was high as the Oulton Park event approached but, sadly, freak circumstances and the unforgiving nature of the Cheshire circuit claimed his life.
This correspondent was always impressed with his composure, manners and total commitment to his chosen goal, as well as his smooth precise style on the track.
To his father Liam, his mother Mary, his sister Clare and all his friends we would like to extend our sympathies at this time.