Motoring News - 3rd December 1997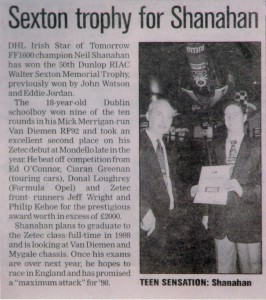 DHL Irish Star of Tomorrow FF1600 champion Neil Shanahan has won the 50th Dunlop RIAC Walter Sexton Memorial Trophy, previously won by John Watson and Eddie Jordan.
The 18-year-old Dublin schoolboy won nine of the ten rounds in his Mick Merrigan-run Van Diemen RF92 and took an excellent second place in the Zetec debut at Mondello late in the year. He beat off competition form Ed O'Connor, Ciaran Greenan (touring cars), Donal Loughrey (Formula Opel) and Zetec from runners Jeff Wright and Philip Kehoe for the prestigious award worth in excess of £2000.
Shanahan plans to graduate to the Zetec class-full-time in 1998 and is looking at Van Diemen and Mygale chassis. Once his exams are over next year, he hopes to race in England and has promised a "maximum attack" for '98.