by Nick Phillips – Irish Daily Star – 1st June 1999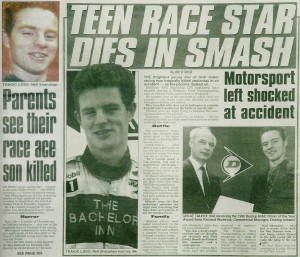 The death of a rising Irish motorsport star Neil Shanahan was caused by a freak "trillion-to-one" accident, according to his Van Diemen team boss Ralph Firman.
The tragic teenager was killed during a Formula Ford Championship race at Oulton Park in Cheshire, England last Monday.
He was chasing his dream of becoming Ireland's next Eddie Irvine and had been thrilled to secure a drive in Formula Ford with the Van Diemen team. Irvine raced with the same squad in 1987 and won the British Championship.
Although the official investigation into the accident is still continuing, Firman is certain Shanahan was killed when a broken front wheel entered the cockpit. The Van Diemen boss said: "It is a trillion-to-one situation. If it had hit the cockpit 2mm one-way or the other, the wheel would have bounced away." Firman also led the praise for Shanahan's unique driving skills. "He was a young driver with a great deal of potential talent," he said.
His co-manager, Oisin O'Briain, said: "Shanahan's death was a huge blow."