by Jacqueline Taylor - Evening Herald - 24th June 1997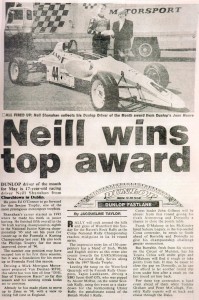 Dunlop driver of the month for May is 17-year-old racing driver Neil Shanahan form Churchtown in Dublin. He joins Ed O'Connor to go forward for the Sexton Trophy, one of the most prestigious motorsport trophies.
Shanahan's career started in 1993 where he made his mark in junior karting. He finished fifth overall in the '94 Irish karting championship, eighth in the National Junior Karting championship '95 and set his pace for runner-up in the Formula A Karting Championship last year, He also took the Philips Trophy for the most improved driver of '96.
The number one position may have escaped him in his first three seasons, but it was a foundation for his move up to Formula Ford this season. Driving a Mick Merrigan Motorsport prepared Van Diemen RF92, this talent has won him all four "DHL Star of Tomorrow Races" so far this season and his winning streak looks set to continue.
Already he has made plans to move up to Zetec in '98, with a view to racing full time in England.