by Andrew Murphy - The Title - 6th June 1999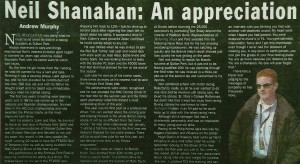 Neil Shanahan was doing what he most loved when he died in a racing accident at Oulton Park. Always interested in cars and things mechanical, Neil's interest in motor sport began in earnest six years ago when he visited Mondello Park with his father Liam to watch kart races.
By the time he got home from the meeting he said he wanted to buy a kart and race. Thinking it was a passing phase, Liam agreed to buy one for him provided he contributed half the cost. Neil duly did and with his father he bought a kart and his talent with immediately obvious hen he started racing.
The first two years in karting were learning years and in '96 he was runner-up in the national and Munster championships, finished third in the IKC club championship and was awarded the Philips trophy as the most improved kart driver.
With his parents, Liam and Mary, he decided to move on and race in Formula Ford 1600 and on the recommendation of Michael Cullen they met Michael Merrigan and decided to run with his team. His record in the class speaks for itself, winning 10 races to take the FF1600 Star of Tomorrow title as well as being awarded the RIAC Dunlop Driver of the Year award.
His performance at the Formula Ford Festival meeting confirmed his ability as a driver. The brakes failed on his car in the FF1600 race, dropping him back to 12th – but his drive up to second place after regaining the track left no doubt about his ability. A successful drive in Mark Cullen's more powerful Zetec confirmed he could quickly adapt to any car.
He was thrilled when he was invited to join the Red Bull 'family' last year and would race with stars such as Jean Alesi, Eddie Irvine, and Carlos Sainz. He was looking forward to tests with the Sauber F1 team and the F3000 team that Red Bull had planned for him at the end of this season.
Last year he won six of his twelve races, three times as many as his nearest rival to take the Formula Ford Zetec title.
His achievements were widely recognised and he was awarded the RIAC Dunlop Driver of the Year title for the second year and the motor sport journalists voted him Ireland's most outstanding driver of the year.
This year was his first year as a professional driver. "I'm very excited about the coming year and looking forward to the whole British racing scene. It will be so different from the home scene," he said when interviewed last January. "I will be a full-time driver for the first time and based in England for the whole season. There will be no part-time jobs for me this year, so I can devote more time to my fitness programme."
He quickly made an impact. At Brands Hatch, Neil stormed from 10th on the grid to finish a superb fourth, in a brilliant drive he maneuvered around the outside of Mark Taylor at Druids before stunning the 25,000 spectators by overtaking Tom Sisley around the outside of Paddock Bend. Representatives of Motoring News and Ford awarded him the Motoring News Race Ace for the two amazing overtaking maneuvers. He was catching up quickly and the Brands Hatch result showed just how quickly he was getting on the pace.
Neil was aiming to repeat his Brands Hatch success at Oulton Park, but it was not to be. Having qualified 10th he was storming through the field when he was involved in a three-car pile-up on the second lap and succumbed to his injuries.
Neil combined school with motor racing. Reluctantly, really, as all he ever wanted to do was race and be involved with racing cars. He loved his school, St. Mary's College in Rathmines, but didn't like that it kept him away from racing.
During classes he was known to have Autosport hidden in an A4 pad so he could keep up to date with the latest racing news.
Although still a teenager Neil had a charismatic personality and was an inspiration to many, young and old alike.
Racing driver Philip Kehoe says Neil was his biggest inspiration and influence on his career. Hugh Durkin of Kilkenny best sums up Neil's influence in an e-mail letter he wrote: "I remember looking at the Driver of the Year awards for the first year you won it. You were my role model, still at school (like me), passionate about racing (like me) and hungry for success (like me). I watched TV3 this evening and saw an interview with you thinking you had won another well-deserved award. My heart sank when I heard you had passed. You were destined to make F1. You were charismatic, funny and I got this impression even though I never had the pleasure of meeting you. A very down to earth person, you now join the greats in your final resting place. You are up there because you deserve to be. You are a champion. No one will ever forget that."
I have lost a friend and judging by the messages of sympathy so has thousands more.