by Declan Quigley - Sportswrite - July 1999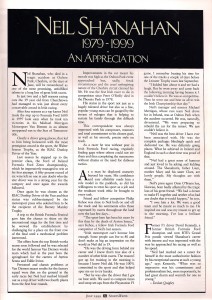 Neil Shanahan who died in a tragic accident at Oulton Park, Cheshire, at the start of June, will be remembered as one of the most promising, unfulfilled talents in a long line of great Irish racers.
In just two and a half seasons racing cars the 19 year old form Churchtown had managed to win just about every conceivable award in Irish racing.
After four seasons as a top karter Neil made the step up to Formula Ford 1600 in 1997 look easy when he took ten victories in his Michael Merrigan Motorsport Van Diemen in an almost unopposed run to the Star of Tomorrow title.
Clearly a driver going places, that led to him being honoured with the most prestigious award in the sport, the Walter Sexton Trophy, as the RIAC Dunlop Driver of the Year.
Last season he stepped up to the premier class, the Ford of Ireland Formula Ford Zetec championship, which he impressively managed to win at his first attempt. A fifty percent record of six wins left no one in any doubt who the star driver was in a strong year for the category and once again the awards followed.
Once again he was chosen as the RIAC Dunlop Driver of the year and that status was rubberstamped by the motorsport press who selected him to be the recipient of the Barney Manley Trophy.
A trip to the British Formula Festival gave him the chance to shine on the international stage for the first time and he wowed the establishment by challenging for a place on the front row of the final until a mechanical problem intervened.
The offers from the top British works team soon followed and he was selected for the world famous Van Diemen works team which had in the past been the springboard for the careers of Ayrton Senna and Eddie Irvine.
Personnel and chassis problems at Van Diemen meant results for the factory squad were thin on the ground in the early races but Neil had marked himself out as a top driver with two fourth places from the first four rounds.
Improvements in the car meant his morale was high as the Oulton Park event approached but, sadly, freak circumstances and the cruel unforgiving nature of the Cheshire circuit claimed his life. He was the first Irish racer to die in competition since Peter O'Reilly died in the Phoenix Park in 1978.
His status in the sport not just as the hugely talented driver but also as a fine popular young man can be gauged by the stream of eulogies that is helping to sustain his family through this difficult time.
This correspondent was always impressed with his composure, manners, and total commitment to his chosen goal, as well as his smooth, precise style on track.
As a racer he was without peer in Irish Formula Ford racing, regularly finding gaps where others could not see them and then completing the manoeuvre without drama or the need for dubious tactics.
As a man he displayed maturity beyond his years. His confidence and easy affability made him a role model in the paddocks, as did his willingness to treat his sport as a job and the resultant work ethic he brought to every task.
Friend and fellow competitor Philip Kehoe was close to Neil both on and off the track and his sentiments echo those expressed by racers throughout the land over the last few days.
"The sport here has been hit more by this than by the death of Ayrton Senna," says Kehoe, a fellow Irish Formula ford competitor of Neil's last season.
"Irish motorsport can't honour him enough. Some people can live to 80 and don't make as big an impression on the world as Neil did in 19. He was the driving force behind my career and I know that's true also of a number of other Irish racers. The reason I got up for training in the morning is because I knew Neil did. He was 100% committed to the sport and that helped spur me on to try harder.
"But he was also the driver that I got on best with. We used to compare times and swap set-ups from the Playstation F1 game. I remember beating his time for one of the tracks a couple of days before the Leinster Trophy races last September. I kidded him about it and we had a laugh. But he went away and came back the following morning having beaten it. I couldn't believe it. He was so competitive. Then he went out and beat us all to win the Irish Championship that day."
Neil's manager and mentor Michael Merrigan, whose race team Neil drove for in Ireland, was at Oulton Park when the accident occurred. He was, naturally, devastated. "We were preparing to rebuild the car for the restart. We just couldn't believe it. Neil was the best driver I have ever been associated with. He was the complete package: blindingly quick and dedicated too. He was definitely going places. What he achieved in Ireland and England in such a short time was proof of that. Neil had a great sense of humour and just loved to be joking and kidding around. The Shanahan's, father Liam, mother Mary and his sister Clare, are lovely people. My thoughts are with them."
Neil's press agent Oisin O'Briain has, likewise, been badly affected by the tragic loss of his great friend. "We had a dream to make F1 together and neither of us had any doubt it would happen," he says. "I owe him a lot. We were a good team and he meant so much to me. He inspired me and was my reason to get up in the morning. I've lost a brilliant friend."
Former F1 driver David Kennedy, a former British Formula Ford champion and now RTE's Grand Prix pundit viewed Shanahan's career with interest and was impressed with the way he approached his racing as well as his speed.
"Neil had marked out a career for himself in the most authoritative fashion by his exceptional success at such a young age," says Kennedy. "What was so impressive was his commitment and professionalism but, more importantly, he had great charm and warmth for one so young."