Lifetimes - 7th May 1998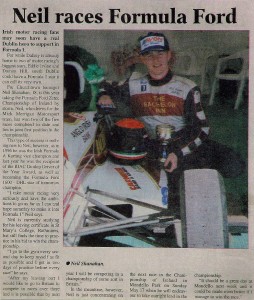 Irish motor racing fans may soon have a real Dublin hero to support in Formula 1.
For while Dalkey is already home to two of motor racing's biggest stars, Eddie Irvine and Damon Hill, south Dublin could have a Formula 1 star it can call its very own. For Churchtown teenager Neil Shanahan, 18, is this year taking the Formula Ford Zetec Championship of Ireland by storm. Neil, who drives for the Mick Merrigan Motorsport team, has won two of the five races completed to date and lies in joint first position in the champion.
This type of success is nothing new to Neil, however as in 1996 he was the Irish Formula A Karting vice champion and last year he was the recipient of the RIAC Dunlop Driver of the Year Award, as well as becoming the Formula Ford 1600 – DHL Star of Tomorrow champion.
"I take motor racing very seriously and have the ambitions to go as far as I can and hope someday to make it into Formula 1" Neil says.
Neil is currently studying for his leaving certificate in St. Mary's College, Rathmines, but still finds the time to practice in his bid to win the championship.
"I go to the gym every second day to keep myself as fit as possible and I get in two days of practice before every race" he says. "After my leaving cert I would like to go to Britain to compete in the races over there and it is possible that by next year i will be competing in a championship of some sort in Britain."
In the meantime, however, Neil is just concentrating on the next race in the Championship of Ireland in Mondello Park on Sunday may 17th when he will endeavour to take outright lead in the championship.
"It should be a great day at Mondello next week, and it could be made even better if I manage to win the race."