by Andrew Murphy - The Title - 17th January 1999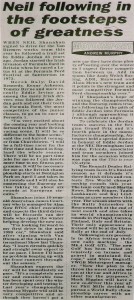 When Neil Shanahan signed to drive for the Van Diemen works team this year he followed a trail set by Eddie Jordan 25 years ago. Jordan started the Irish invasion of Formula Ford in Britain when he raced a Lotus 61 at the Formula Ford Festival at Snetterton in 1973.
Derek Daly, David Kennedy, Kenny Acheson, Tommy Byrne and more recently Eddie Irvine are among the many Irish drivers who followed the Jordan path and cut their teeth in Formula Ford, the most competitive of the junior classes, to go on to race in Formula 1.
"I'm very excited about the coming year and looking forward to the whole British racing scene. It will be so different to the home scene," said the red-haired teenager from Churchtown. "I will be a full-time racer for the first time and based in England the whole season. There will be no part time jobs for me so I can devote more time to my fitness programme. It will be necessary for me as the British championship starts at Donington Park on April 5th and takes in 14 rounds and I will also be contesting the Eurocup series taking in about six rounds at European circuits."
Shanahan joins 18-year-old Australian James Courtney who is managed by Alan Gow BTCC chief executive and expects the third driver will be Riccardo van der Ende who spent the winter helping develop the new car.
"I'm looking forward to my first drive in the new 1999 car," Shanahan said after signing with Van Diemen at the Autosport International Show last Thursday. " I learn circuits quickly and straight away expect to be on pace. I know I'll have no problem keeping up with the front runners throughout the season."
Shanahan expects the car will be immediately on pace. "It's a completely new car and considerable time has been spent over the winter developing and testing it. Last year's championship winning Mygale will still be very competitive and although they haven't got a new car they have done plenty of testing over the winter so I expect fierce competition between us. Add in teams like Andy Welch Racing, ADR, Haywood and Alain Menu's new team and it points to the strongest and most competitive Formula Ford championship ever."
If Shanahan's hope of winning the championship and the Eurocup comes true, he's following in the path of Eddie Jordan into Formula 1 although approaching it from a different angle..