by John Kenny - Irish Daily Star - 17th March 1999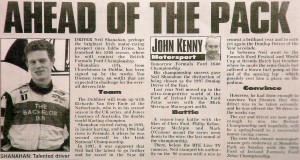 Driver Neil Shanahan perhaps the brightest Irish motor-racing prospect since Eddie Irvine has launched his 1999 season, where he will contest the British Formula Ford Championship.
Shanahan (19), from Churchtown in Dublin has been signed up by the works Van Diemen team, an outfit that are expected to challenge for the overall drivers title.
The Dubliner will team up with Richardo Van Der Ende of the Netherlands, who is in his second season in the UK series, and James Courtney of Australia, the double world Karting champion.
Shanahan started racing in 1993, in junior karting, and by 1996 had risen to Formula A where he was second overall in the Irish National Championship. In 1997, it was apparent that Neil had the talent to go further and he raced in the Star of Tomorrow Formula Ford 1600 Championship. His championship success gave Neil Shanahan the distinction of being chosen as the 1997 Dunlop Driver of the Year.
Last year Neil moved up to the ulta-competitive world of the Ford of Ireland Formula Ford Zetec series with the Mick Merrigan Motorsport outfit.
A season-long battle with the likes of Chris Paul, Philip Kehoe, George McAlpin and Mark O'Connor meant the series went down to the wire in the last round of the championship.
There, before the RTE Live TV cameras, Neil stamped his authority on the '98 season with a win to cement a brilliant year and to earn yet again the Dunlop Driver of the Year accolade.
In between Neil went to the Formula Ford Festival and World Cup at Brands Hatch last October where he made the semi-finals but suffered a blown fuel pump at the end of the opening lap – which possibly cost him a place on the podium.
However, he had done enough to convince Van Diemen that this driver was to be taken seriously and he was offered the '99 drive in the works car.
The car and driver are now good enough to win the British Championship and hopefully, will be a springboard to a successful motor-racing career.
The new Irish circuit motorsport season gets underway at Mondello Park on Sunday with the 1999 Ford of Ireland Formula Ford Zetec Championship.