RIAC MOTOR SPORT - Motorsport - 1999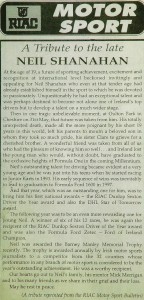 At the age of 19, a future of sporting achievement, excitement and recognition at international level beckoned invitingly and appealing for Neil Shanahan who even at that tender age had already established himself in the sport to which he was devoted so passionately. Unquestionably he had an exceptional talent and was perhaps destined to become not alone one of Ireland's top drivers but to develop a talent on a much wider stage.
Then in one tragic unbelievable moment, at Oulton Park in Cheshire on 31st May, that future was taken from him. His totally unexpected death, made all the more poignant by his short 19 years in the world, left his parents to mourn a beloved son in whom they took so much pride, his sister Clare to grieve for a cherished brother. A wonderful friend was taken from all of us who had the pleasure of knowing him so well… and Ireland lost the young man who would, without a doubt, have graduated to the exclusive heights of Formula One in the coming Millennium.
Neil's outstanding talent for driving became evident at a very young age and he was just into his teens when he started racing in the Junior Karts in 1993. His early sequence of wins was inevitably to lead to graduation to Formula Ford 1600 in 1997.
And that year, which was an outstanding one for him, was to bring him his first national awards – the RIAC Dunlop Sexton Driver the Year award and also the DHL Star of Tomorrow award.
The following year was to be an even more rewarding one for young Neil. A winner of six of his 12 races, he was again the recipient of the RIAC Dunlop Sexton Driver of the Year award and was also the Formula Ford Zetec – Ford of Ireland Champion.
Neil was awarded the Barney Manley Memorial Trophy recently. The trophy is awarded annually by the Irish motor sports journalists to a competitor from the 32 countries whose performance in any branch of motor sport is considered to be the year's outstanding achievement. He was a worthy recipient.
Our hearts go out to Neil's family, his mentor Mick Merrigan and to his many friends as we share in their grief and their loss.
May he rest in peace.
(a tribute reprinted from the RIAC Motor Sport Bulletin)